Modern prosthodontics offers a wide range of solutions correctly chosen to your needs and expectations. Nowadays prosthodontics not only allows us to restore the missing teeth but also to improve the aesthetics of your smile.
We offer among other things:
Porcelain crowns – on a metal substructure
Full ceramic crowns
Dental veneers
Dental Bridges
Dentures
DIGITALLY CHOSEN COLOUR, AND OUTSTANDING QUALITY OF DENTURES.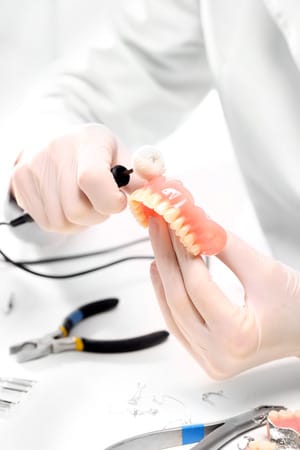 LIST OF FEES – PROSTHODONTICS
| lp. | nazwa zabiegu | cena |
| --- | --- | --- |
| 1 | korona licowana porcelaną | 700 zł |
| 2 | korona ze stopniem ceramicznym | 850 zł |
| 3 | korona pełnoceramiczna | 1200 zł |
| 4 | korona na cyrkonie | 1500 zł |
| 5 | korona na złocie | 1000 zł |
| 6 | licówka kompozytowa u technika | 400 zł |
| 7 | licówka porcelanowa | 900 zł |
| 8 | inlay | 500zł |
| 9 | onlay | 600zł |
| 10 | proteza szkieletowa | 1200 – 1500 zł |
| 11 | proteza całkowita akrylowa | 800 zł |
| 12 | proteza częściowa akrylowa | 600 zł |
| 13 | dostawienie zęba do protezy (1 ząb lub klamra, każdy element) | 90 zł |
| 14 | ponowne osadzenie korony | 100 zł |
| 15 | szyna relaksacyjna | 300 – 600 zł |
| 16 | most na włóknie metoda pośrednia, za punkt | 450 zł |
| 17 | most na włóknie metoda bezpośrednia, za punkt | 500 zł |
| 18 | szynowanie od 1 punktu | 100 zł |
| 19 | mikroproteza, 1 punkt | 300 zł |
| 20 | wkład indywidualny : pojedyńczy | 250 zł |
| 21 | wkład indywidualny : składany | 300 zł |