Endodontic therapy or a root canal treatment is based on removing the infected pulp and preparing the root canals using special instruments. Afterwards  these canals are filled with specialist materials used in this field of dentistry.
Untreated teeth can die which leads to further infections in tissues. It can cause fistulas, abscesses or other pain discomforts. As a result  this can cause disorders which effect  the functioning of the whole body (bacteria).
ENDODONTIC – ROOT CANAL TREATMENT USING A MICROSCOPE
Microscopic endodontic treatment  is a procedure in order to save and treat a tooth, which in other circumstances  would have to be removed. Each endodontic treatment is performed in high magnification by using a dental microscope. Which allows us to see significantly more detail than we  would be able to, without such a high magnification.
As a consequence, such a treatment is precise and detailed. We are able to ensure optimum results  of the treatment. By using the latest techniques of shaping the root canals and inserting  a filling to seal the space by using thermal methods.
We use the latest equipment, therefore  we are able to treat more complex root canal cases, for example:
root canal retreatment

treatment of perforation

removal of fractured

 

endodontic instruments
PLEASE REMEMBER THAT OPTING-OUT FROM THE ROOT CANAL TREATMENT MAY RESULT IN LOSING YOUR TOOTH AND DAMAGE OF THE BONE BY DEVELOPING AN INFLAMMATORY CONDITION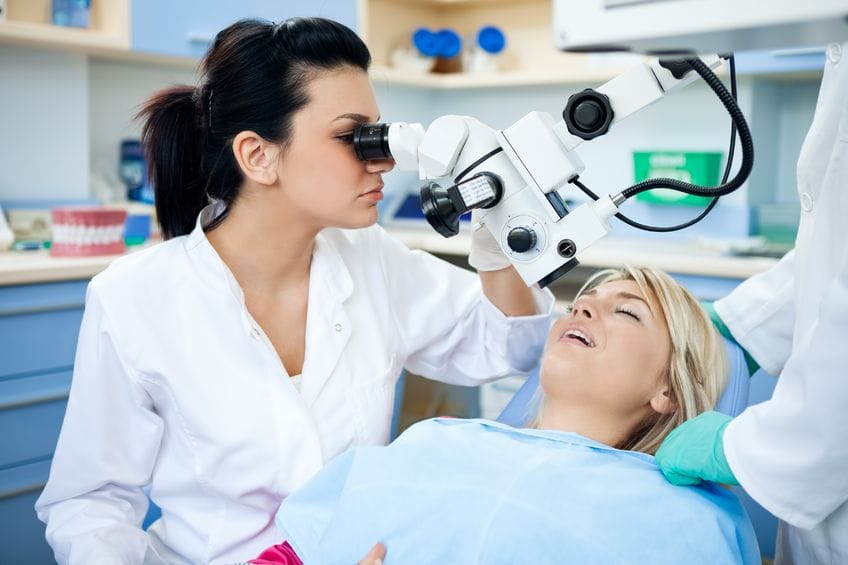 LIST OF FEES – ROOT CANAL THERAPY (ENDODONTICS, MICROSCOPIC ENDODONTIC TREATMENT)
THE PRICE OF EACH PROCEDURE INCLUDES PREPARING, FILLING THE ROOT CANAL AND TWO PERIAPICAL X-RAYS.
lp.
nazwa zabiegu
cena

Jeśli ząb nigdy nie był leczony kanałowo :

1
siekacze i kły
250 zł
2
zęby przedtrzonowe jednokanałowe
250 zł
3
zęby przedtrzonowe dwukanałowe
350 zł
4
zęby trzonowe
200 zł / kanał

Retritment ząb wymaga powtórnego leczenia kanałowego , zabieg odbywa się przy użyciu mikroskopu

5
siekacze i kły
300 zł
6
zęby przedtrzonowe jednokanałowe
300 zł
7
zęby przedtrzonowe dwukanałowe
400 zł
8
zęby trzonowe
250 zł / kanał
9
usunięcie złamanego narzędzia
200 zł
10
wkład lany pojedynczy
250 zł
10
wkład lany składany
300 zł
10
wkład z włókna szklanego i odbudowa
250 – 350 zł